Very much on a whim, I found myself ordering one of the Super Mario Bros Game & Watch handhelds.
I honestly wasn't really swayed last fall when this was released because I didn't have any of these things as a kid and admittedly most handhelds are just too small for my big hands and old eyes to play for any length of time these days. But then Nintendo just announced that this year they're releasing a Zelda version – which is easily in my Top 5 favorite games of all-time – and I also happened to find the Mario one on sale, so here we are…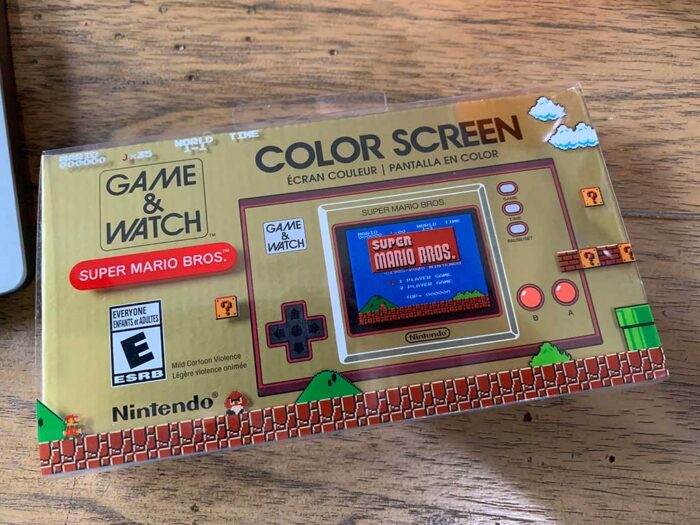 Even though by now I've played the original Super Mario Bros on probably half a dozen different platforms (NES, SNES, Wii, WiiU, Switch, Arcade Cab, Computer Emulator), for some reason it still amused me to see that iconic screen in full color on a tiny, 2.5-inch portable screen. And it's not like I don't have scads more graphically impressive games on my phone, or that I could carry around literally thousands of games on a 1 TB micro-SD card the size of my thumbnail.
Fun Fact – Super Mario Bros on the NES was only 40 KB in size!
I think what really makes me smile is that Christopher has gotten a kick out of playing it, even though it's not nearly as shiny and feature-rich as Super Mario Odyssey and Super Mario 3D World that he's playing right now. Here's a pic from 2018 of him trying to play, but more or less just running into pits and Goombas…
And yet three years later he can play along with the game that not only introduced his Dad to video games, but also was the predecessor for the Switch games that he loves exploring today!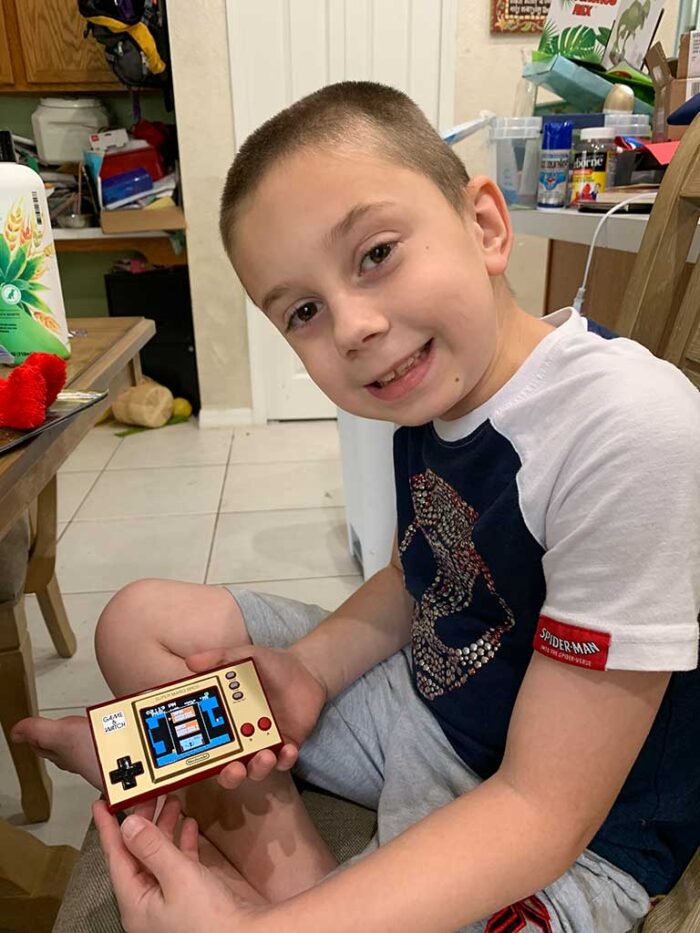 I'm curious to see if the next one will spark a little interest in the Zelda franchise for him because although he hasn't had much interest to date, you never know what will catch their eye next! 😉
…either way, I'm sure I'll enjoy playing through the first dungeon randomly before my eyes start seeing double or my hands cramp up on these tiny, tiny buttons…