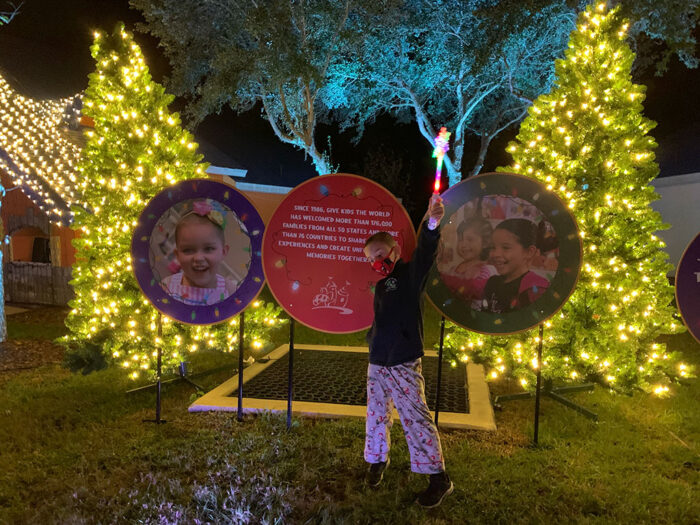 I've really missed a Christmas light display like this since Disney got rid of the Osborne Family Lights at Hollywood Studios a few years ago, so when I saw that the Give Kids the World Village was putting on this new event again, I jumped on picking up tickets for us right away!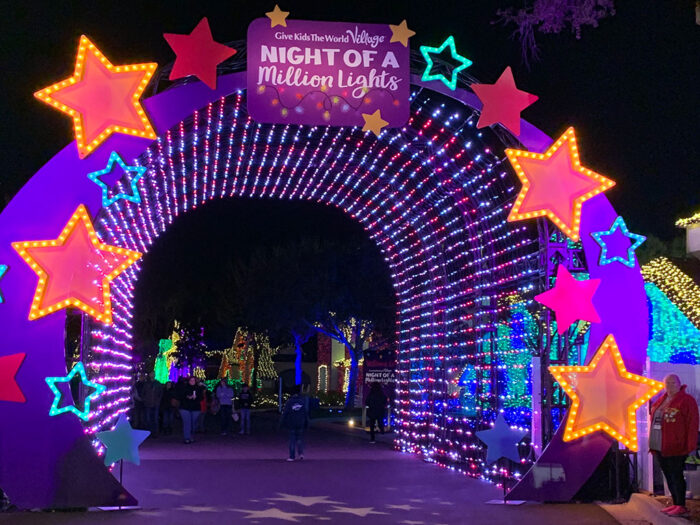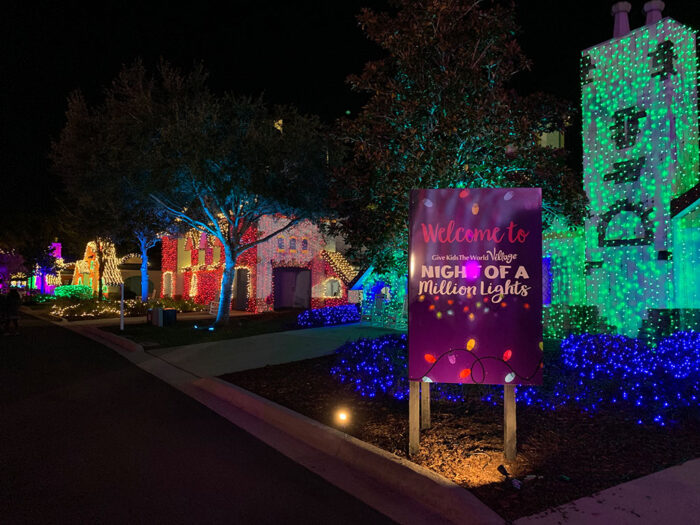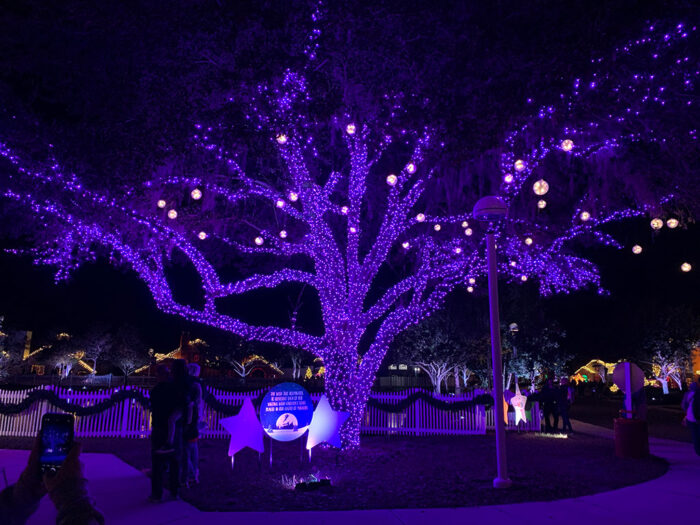 I was immediately impressed to find that the event had all of the best parts of the Osborne Lights, but without the heavy theme park crowds because there was clearly a lot more space to work with, so whereas the Osborne Lights were almost always elbow to elbow, here at Give Kids the World the streets were nearly empty with just small groups casually taking photos and enjoying the presentation.
Granted, I don't know how much of this is due to COVID – this is only their second year, so they've only ever existed under pandemic conditions … it'll be interesting to see how that changes as this thing eventually dies down…
Once we got back into the sponsored part of the exhibit, the kids really loved having all sorts of things to interact with and it was neat seeing all sorts of local attractions coming together in one place for a common goal. Legoland, Universal, Margaritaville, Gatorland, and Ripley's were some family favorites for us!
Now admittedly, and also a bit unexpectedly, parts of the evening were certainly a bit somber as we were randomly reminded of the real purpose of the Village, which is to give vacations to sick kids and their families during otherwise terrible times in their lives. There were decorations colored by some of the kids themselves, at one point we went on a tram tour that took us around the actual houses – also fully decorated – where families were currently staying.
At one point, our own kids asked if they could come stay there sometime because it looked like so much fun, and it was hard to explain that while yes, they've "been sick" and had hospital stays and even spent their earliest days under critical care in the NICU, it wasn't on the same level as the kids who come here because they're struggling with cancer or other life-threatening diseases … the kinds that people don't necessarily "get better" from.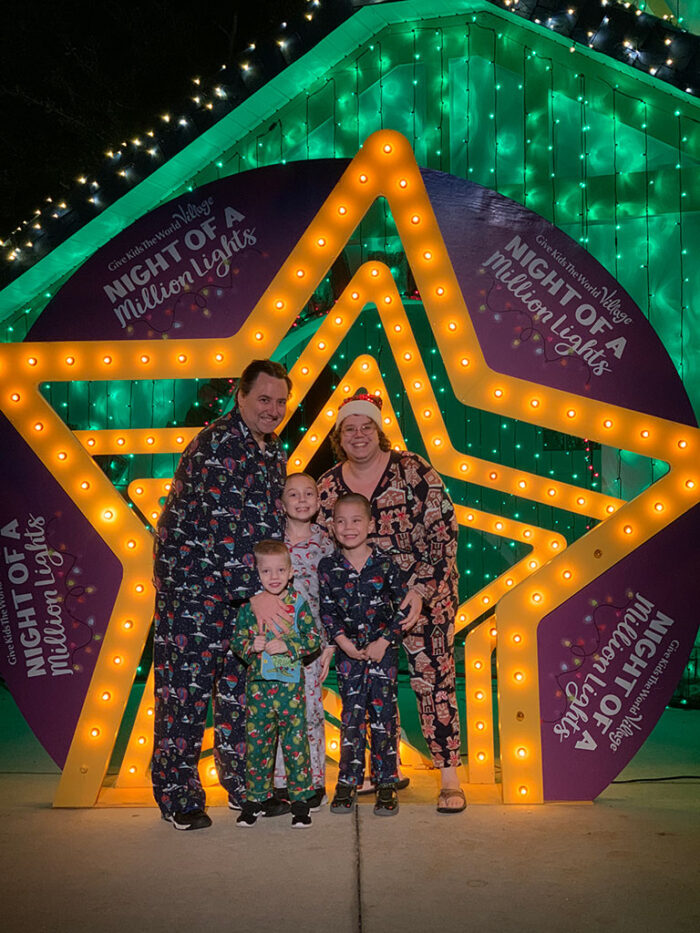 Still, at times it was also a quaint reminder to savor all of the smiles that our kids beamed as we explored the lights together and also spent plenty of time watching them run around with other kids on the playground in the middle of the Village. Plus, it made the prices a little easier to stomach knowing that all of the proceeds from tickets and food and merch were going to a good cause instead of simply a shareholder's next dividend check!
Seriously, it had me pondering all night long why Disney never did something like this as a non-profit, although in their defense apparently they did donate a bunch of the lights and the workforce to help put them up, and they do host Make a Wish families in the parks themselves...
I don't know – maybe in ways it's better having something like this being a third-party, not operated by one company where the entire community can rally around it to help these kids.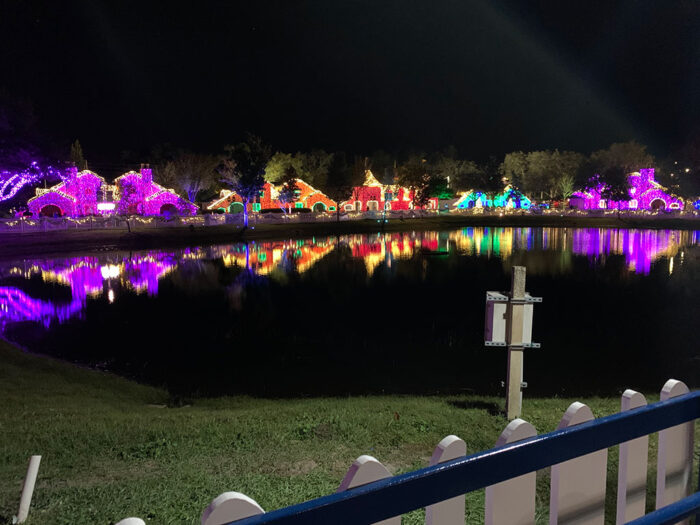 By the time we were all cold enough to call it a night, I think it's safe to say that everyone felt very much merry and bright, and it was a fantastic way to help kick off the holiday season that I wouldn't hesitate to do again in the future. In fact, the kids asked on the shuttle bus ride back to the car if we could do it again next year, so that seemed like a pretty good sign to me!